You are here
Custom photolithography system : DILASE 750
Direct laser writing tailored to needs
The customisable laser lithography system Dilase 750 offers you the the possibility to work with one, two or three writing laser sources over one, two or three laser beam widths ranging from 0,5µm to 50µm. It enables the writing on any type of substrate (photomask, semiconductors, glass, polymers, cristal, flexible films...) over a standard working surface of 6"x6", extendable up to 12"x12" and even larger on demand.
Request a quote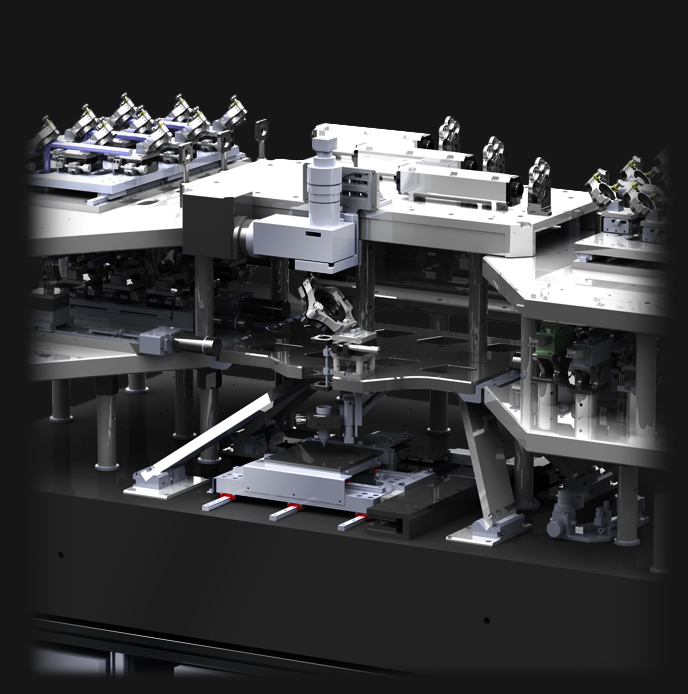 Dilase 750 can be equipped with 1 to 3 lasers, each one can operate with 1 ,2 or 3 different laser beam widths.
The smallest beam size proposed is 500nm and still benefits from a large depth of focus and vectorial writing mode, raster scanning modes or a combination of both are available.
In a few seconds, the optical line transfer is made automatically with no manual intervention. Dilase 750 is equipped with a robust and stable optic arch. It allows you to realise submicronic structures on the whole centered working surface extendable up to 12"x12".
Dilase 750 is equiped with a robust and stable optic arch. It allows you to achieve submicron structures over the whole working surface extendable up to 6"x6".
The software suite DilaseSoft and KloeDesign comes in standard with all commercial Dilase equipments.
KloeDesign is a computer assisted design software. It allows you to quickly draw all kind of patterns such as optical, microfluidic, microelectronic circuits thanks to a pre-defined library objects available to the user. Moreover, KloeDesign enables the upload of usual standard format of the industry, as DXF and GDSII, in order to quickly integrate your environment (production chain).
Designed to manage the lithography equipments of the Dilase range, DilaseSoft is the software that ensures the production of all type of patterns by direct laser writing. Both ergonomics and performances have driven the development of this support.
Perfectly adapted to multi-user operation, this software suite provides you with concrete answers to common requirements of microfabrication, from prototyping to production in series.
Performances:
Linear writing speed : up to 350mm/s
Address grid : 40 nm or 100nm
Repeatability : 100nm
Accepted wafers : from 1 at 12 inches
Accepted substrate thickness : from 250µm to 10mm
Laser beam width (1 or 3)​ : from 0,5µm to 100µm
Aspect ratio: minimum 10 up to 40
Realignment precision : 500nm
Specifications:
Dimensions : 1801 x 1204 x 1790 mm
Available laser sources: 325nm,375 nm,405 nm and 445 nm
From 1 to 3 beam size
Video realignment system
Accepted files format : DXF, GDSII, LWI
Motorized focal length
Integrated design software : KloéDesign V.2
Three writing modes : vectorial, scanning or a combination of both.
Related domains of application: